Provenzano Construction
Mission Statement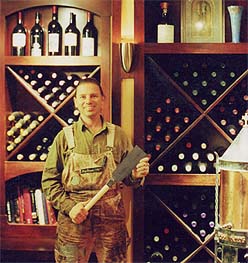 James Provenzano is a third generation bay area resident whose grandparents were Italian immigrants who owned a wine vineyard/ farm/ "spirits distillery" in the summit hills of Los Gatos. (he still keeps his grandfather's moonshine still as a memento) he spent his childhood in Sunnyvale where he witnessed the computer industry blossom out of tomato fields and spent his high school years in half moon bay and his college and early adult years and in the Santa Cruz area (While living in a property not far from his grandpa's the old vineyards) his first construction project was the renovation of the old railroad station that he rented in the Los Gatos mountains where he lived from 1976 to 1989. His father had worked in San Francisco as a stationary engineer at the children's hospital and James began working in San Francisco as apprentice carpenter in the early eighties for the Redwood City based Douglas woodworks and became to know and love this wonderful city. James has worked on custom homes from Hollywood, Santa Monica and Pacific Palisades, to Idaho, Seattle, Lake Tahoe Austin Texas and elsewhere. But these days he prefers to work strictly in San Francisco.
James Provenzano is unique in his trade in a number of ways. While most contractors will proclaim that customer satisfaction is their primary goal, James Provenzano takes this idea far above and beyond any phrase in his mission statement. James considers his client satisfaction absolutely Paramount to his work and strives to keep an on going dialogue with his clients throughout the entirety of a project. His attention to detail is nearly unheard of in today's age of construction. His desire for his clients to be 100% satisfied with the outcome of the project, and for them to have a space that is as close to what they envisioned as is feasibly possible is his ultimate goal. James believes that no detail is too small.
James is a true artist and utilizes his artistic skills in his unique technique of transferring his blueprints directly onto the unfinished walls in full-scale, giving his clients exact full-scale visual of what the room will look like. He also utilizes full-scale mockups constructed from foam board, thin plywood or other materials creating full-scale models of various aspects of a project. James considers these extra steps critical in determining crucial factors such as exact counter heights, cabinet size, storage capacity, cabinet and plumbing hardware placement, etc. These techniques also will determine if there are any design flaws or any other problems with the initial conceptual drawings and any designed problems or conceptual changes can be dealt with before any actual construction begins. "Most people I work for have had experience with other contractors or builders in the past, and I really cringe when I hear stories of the kinds of construction escapades that seem to be so common these days. I will often here something to the effect that 'I told them exactly what I wanted, and this is what I got….?' For me personally, I take every step I can conceivably imagine to ensure that I understand exactly what my clients have envisioned for their project. Construction work is not cheap and I'd tell you if I'm paying for something I want to get done right and to my exact specifications. For me, compromise a last resort, and I always presume that my clients hold of the same viewpoint."
Before any drawings are made and any construction begins James strives to picture in his own mind just what his clients are picturing for the project. He wants to know exactly how the room should feel, both psychologically as well as physically. To exemplify the exact mood that the client had envisioned, James will prepare numerous material samples with different finishes and colors based on the client's specifications so his clients can see exactly what the finished product will look like. He also finds his technique critical when doing tile work. James considers the grout swatches that the manufacturers provide only as a general guide. He will lay out a few square feet of tile on a piece of plywood and
grout the tile with a couple of choices of grout collars and place them in the area to be tiled. This shows exactly what the tile will look like with various grouts. He will even mix his own grout colors if no premixed grouts are satisfactory. Another keen though subtle aspect of James's work and is his fondness for secret compartments. This stems from his desire to utilize every square inch of space he possibly can and his ability to combine functionality and intrigue.
James urges his clients to find as many book and magazine photos as they can which conceived the general feel of the room they want to construct. Not to be confused something they want to copy, but photos that convey the aura of the room. What they want the lighting to look like, what colors to use, what mood should the room convey when you walk into it. Is there a specific theme or feel that the client is attempting to achieve such as a ship's Gallo, a nineteen forties lounge, art deco theater? James will even visit actual locations in his quest to completely understand what a client is trying to convey. James urges his clients to be imaginative and take some risk when conceptualizing their project. He has a strong appreciation for what one of his clients affectionately coined as the POW! Factor. That is when you walk into the room and…POW!.. Didn't expect that! WOW!
Another aspect of James's construction that separates him from most other contractors is that he builds everything on site. His work is truly built in construction and is not subbed out and fabricated in a shop and then adhered to the walls as most cabinetry is done these days. James builds nearly everything himself and takes full responsibility (pride) in everything he does. James Provenzano's work becomes an integral part of the building structure and his work has a true craftsman's look and feel.
Although many of James is projects utilize Exotic materials James is inherently concerned with regards to resource management and purchases only materials which are managed and regulated and certified as legally harvested. He also utilizes high efficiency appliances, LCD lighting when conditions warrant, and other energy conserving techniques.
James is also a strong advocate of utilizing the numerous construction salvage yards in the bay area. "These places are packed with lost treasures; in fact it truly is like a treasure hunting experience to me. And it's not just that things are very inexpensive, which to me personally is a huge thrill (I deplore paying more that I think something is worth) but many of the things that you find it in these recycled building materials yards are truly unique and one of the kind. I've discovered spectacular art deco light fixtures for $25 or $30.00, a complete Victorian fireplace surround for $350.00, ( a piece that would have cost $8,000.00 to $10,000.00 to reproduce. ) I've found spectacular antique corbels, antiques stained glass windows and a recent find was a incredibly hand carved antique marble French provincial fireplace around which I paid under $1,200.00 for. An antiques dealer friend of mine informed me that it was worth between $15,000.00 and $20,000.00! So on my adventures to these places, if I see something that is very unique and one of the kind, and cheap enough, I just go ahead and buy it because I know at some point I'm going to be able to utilize it in a future project. To me it feels like breathing new life into something. A reincarnation of sorts. It just thrills me to utilize this beautiful discarded artwork - which is what I consider much of what I find, true artwork – something that some craftsmen/artisan had labored over long ago and could now be given a new life, to be admired again. For me there's a certain romance to it, and a satisfying feeling that someone's creative travail and hard work has not been done in vain."
---
Copyright Provenzano Construction, 2006, All Rights Reserved.
Web Design: www.PinkParasol.com